Fulfil your wanderlust dreams with a Flexi Personal Loan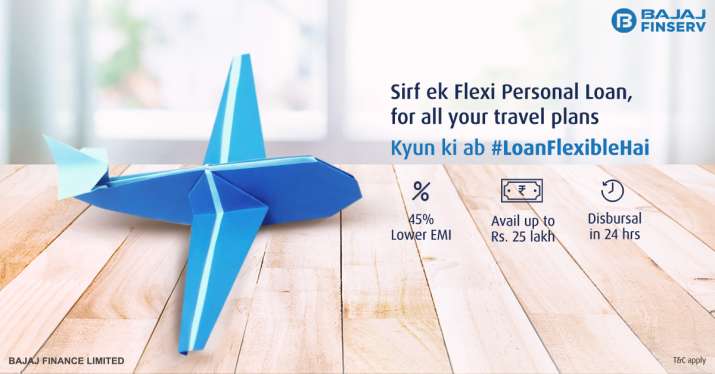 Today, with multiple travel options and packages available, holidaying is easier than ever. In fact, if you're bitten by the travel bug, it's possible that you have already found the deals on offer irresistible. From Costa Rica's natural beauty and Bali's sun-kissed shores to Machu Picchu's ancient history, there's so much to take in. While all these destinations may seem tempting, to bring your plans to fruition, you need a travel finance solution that can keep pace. Thankfully, there are various options up for grabs and one that offers you a great deal of flexibility is Bajaj Finserv's Flexi Personal Loan. It is collateral-free and offers financing on the go.
Take a look at how this loan from Bajaj Finserv can help you fulfil your wanderlust.
Access funding of up to Rs.25 lakh on simple terms
The Flexi Personal Loan offers you financing of up to Rs.25 lakh, so you can fund any trip with ease, be it in India or overseas. As it's a collateral-free loan, you need not pledge a high-value asset to obtain financing either. Further, you can avail the loan easily as the documentation requirements are minimal and the eligibility terms are simple. So long as you reside in one of the approved cities, are between 25 and 55 years of age and work at a reputed company, you stand to qualify.
Book hotel accommodation and flight tickets as you go
Flexi Loans give you the power to withdraw money from your loan sanction as and when you need it. So, instead of withdrawing the entire sanction and paying interest on the whole amount, you can withdraw a part of it and restrict your interest payments to this amount. Further, you can withdraw money as many times as you need, without having to make multiple applications or pay additional fees. As someone with a strong desire to travel, you may want to add a day or two to your itinerary at the eleventh hour. With flexible funding, you can do so with unmatched ease.
Make repayment stress-free with interest-only EMIs 
Each EMI comprises an interest and a principal component. However, in the case of a Flexi Loan, you can choose to pay only the interest portion for the initial part of the tenor. This reduces your monthly outgo by up to 45%, enabling you manage post-vacation budgets with ease. You can make the rest of your repayment journey smooth too by splitting the loan amount over a tenor of up to 60 months. Similarly, you enjoy zero charges on part-prepayments and since there are no hidden charges, you can plan an exciting vacation in a cost-effective manner.
Manage your loan conveniently via an online portal 
To offer superior convenience, Bajaj Finserv makes it possible for you to withdraw and part-prepay your loan via its online portal, Experia. This facility is extremely beneficial as you surely don't want the hassle of visiting the branch as you make last-minute arrangements or once you're on your trip.
To get a clearer picture of the help you can get from the offering, Bajaj Finserv has launched a #LoanFlexibleHai campaign, featuring a unique, Flexi Personal Loan game. This engaging game shows how you can use the loan to navigate through planned and unplanned expenses that may come your way. It also indicates EMI structures as you borrow, and helps you understand the impact a part-prepayment can have on repayment.
Now that you know how you can finance your next holiday without any hassles, check your pre-approved offer from Bajaj Finserv. This gives you quicker access to funding via a customised deal, so that you can jet-set to your next destination right away!
["source=indiatvnews"]
---
---